Exhibition on TVET and Space Science & Technology in Africa
Exhibition on TVET and Space Science & Technology in Africa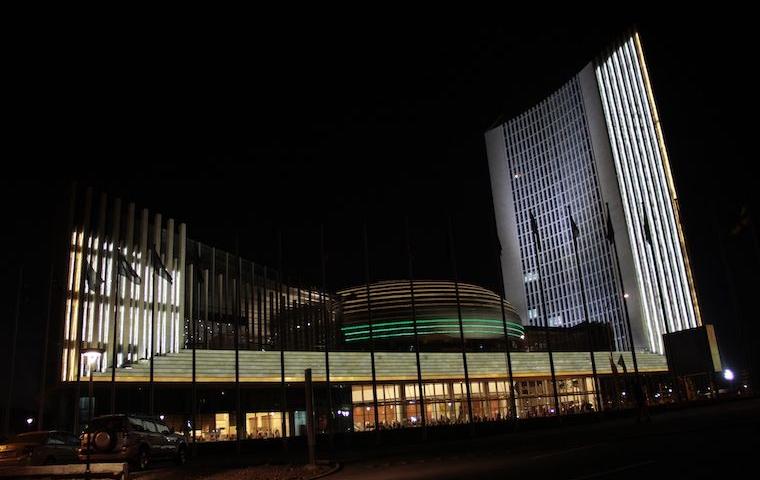 Press Release Nº311/2015
Exhibition on TVET and Space Science & Technology in Africa
Addis Ababa, Ethiopia 28th October 2015: The African Union Commission in Partnership with FHI360, a USAID-funded project under the African Union Partnership (AUP) has organised an Exhibition parallel to the 1st Specialized Technical Committee Meeting on Education Science and Technology (STC-EST). The exhibition that involves model Technical, Vocational, Education and Training (TVET) and exhibitors show casing Space Science initiatives from African countries runs from 27th to 30th October 2015.
The TVET exhibition is an occasion for programmes to showcase the most promising TVET models for the 21st century. Themed "Connecting the Dots… from Skills Development to Jobs", the exhibition is part of the implementation of the Continental Strategy for TVET, aimed at strengthening continental, regional and national capacities to implement TVET programmes. The ten TVET centres showcasing their programmes are part of the top twenty identified from a bottom up competition that sought to identify good practices across the continent.
These model TVET centres will be used to tell the African TVET story and assist with rebranding Description: Description: F:\Tunisia Photo.jpgand marketing TVET as a pathway to youth skills development. In so doing, the model TVET centres will not only be assisting to mainstream TVET, but also to support youth entrepreneurship outcomes.
The exhibition provides a forum for Ministers and Social Partners attending the Special Technical Committee (STC) Meeting on Education, Science and Technology to share experiences and learn from each other the best practices on TVET. It also accords opportunity for participants to explore potential partnerships which will ultimately enhance intra African Technical Corporation in Skills Development.
Among the model programmes in the exhibition include Selam David Roescli TVET from Ethiopia, Koforidua Polytechnic from Ghana and Le Centre de Formation aux Métiers Portuaires et à la Logistique (CFMPL) from Senegal.
Description: Description: G:\DSC_0319.JPGAlso organized in the margins of the STC-EST on the 29th of October is a Panel discussion on implementing the TVET Paradigm Shift. The panellists will include TVET teachers/instructors, managers, trainees, graduates, employers/private sector, foundations/workforce development support institutions/NGOs, media and policy makers. Discussions are aimed at soliciting ideas on how to maximize benefits from TVET programs for youth employability, innovation and entrepreneurship in Africa.
Space Science and Technology exhibition is meant to showcase successful initiatives that have demonstrated applications of space technology in addressing socio-economic needs for sustainable development contributing to the overarching African Agenda 2063. Exhibitors include Entoto Observatory and Research Centre (EORC), African Group on Earth Observation Systems of Systems (AfriGEOSS), Cape Peninsula University of Technology (CPUT), Square Kilometre Array (SKA) and African Association of Remote Sensing for Environment (AARSE). The objective of this exhibition exercise is to create awareness to Policy makers about the benefits of Space Science and Technology applications towards the adoption of the African Space Policy and Strategy as instruments to guide the African Space programmes.
Description: Description: G:\DSC_0291.JPGIt will be noted that the Commission, through HRST, is coordinating implementation of the Global Monitoring of Environment and Security in Africa (GMES & Africa) initiative that is meant to provide Earth Observation services to inform policy and decision making at National, Regional and Continental levels. The exhibition is part of the process of linking technical information to policy making in achieving African Agenda 2063.
This Exhibition is slated to end on 30th October 2015.
For further information, please contact:
Directorate of Information and Communication | African Union Commission I E-mail: DIC@african-union.org I Web Site: www.au.int I Addis Ababa | Ethiopia
Follow us
Face book: https://www.facebook.com/AfricanUnionCommission
Twitter: https://twitter.com/_AfricanUnion
YouTube: https://www.youtube.com/AUCommission
Learn more at: http://www.au.int
Directorate of Information and Communication
Directorate of Information and Communication | Information and Communication | African Union Commission
Tel: +251-11-5517700 | Fax: | E-mail: DIC@africa-union.org | Web:www.au.int
Addis Ababa | Ethiopia