2016 Women AFCON: 10th Women Africa Cup of Nations launched in Yaoundé
2016 Women AFCON: 10th Women Africa Cup of Nations launched in Yaoundé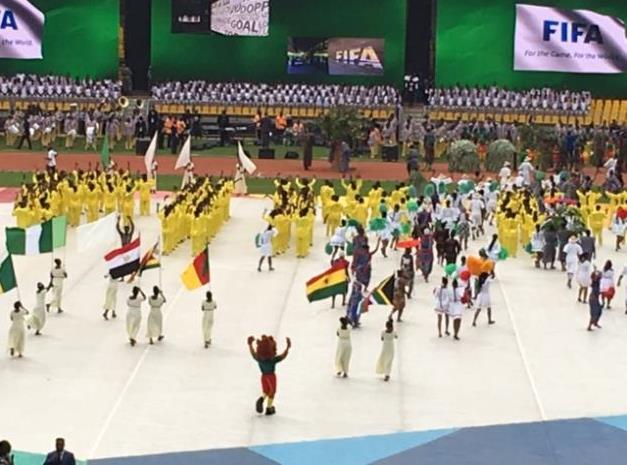 Yaounde 19 November 2016 –The Yaoundé Amadou Ahidjo Stadium was jammed to capacity on Saturday 19 November 2016 with a crowd of sport lovers coming to participate at the official opening ceremony of the 10th edition of the Women's Africa Cup of Nations (AFCON).
The competition that Cameroon is organizing for the first time, officially began at 2:00pm after the President of the Republic of Cameroon, H.E Mr. Paul Biya declared open the games in the presence of the President of the Confederation of African Football (CAF), Mr. Issa Ayatou and the representatives of the African Union Commission (AUC).
The opening ceremony began with a choreographic display showcasing the diversified culture of the Cameroonian people, referred to as "Africa in miniature".
The different flags of the eight participating teams were presented during the choreography followed by the banner on the theme of the games: "Together against Child Marriage" , a campaign launched by the AUC in partnership with UNICEF and CAF. The captains from both teams read the message related to the end child marriage campaign before the start of the football games in the presence of the thrilling sport spectators. This motions for the protection and promotion of women's rights added significance to the sporting jamboree as well as raised awareness on the need to end ill practices against the girl child in the continent. This is in line with the Africa Agenda 2063 as indicated by the AU officials attending the AFCON games.
After the opening colourful festivities, the first eleven of the Indomitable Lionesses of Cameroon and that of the Pharaohs of Egypt played the inaugural match of the Cameroon 2016 Africa Cup of Nations in the Yaoundé Adamou Ahidjo Stadium. At the end of the 90 minutes of play, Cameroon won by 2 goals to zero against Egypt.
The second encounter of the football match was played between Zimbabwe and South Africa at the Amadou Ahidjo Stadium in pool A. The score was a 2-2 draw at the end of the football match.
-------------------------------------------------
Media contacts:
Esther Azaa Tankou, Head of Information Division, Tel. +251 911361185, E-mail: yamboue@africa-union.org
Directorate of Information and Communication | African Union Commission I E-mail: DIC@african-union.org I Web Site: www.au.int I Addis Ababa | Ethiopia
Follow us:
Facebook: https://www.facebook.com/AfricanUnionCommission
Twitter: https://twitter.com/_AfricanUnion
YouTube: https://www.youtube.com/AUCommission