Core Mandate
"Initiate and promote policies and strategies aimed at strengthening coordination, harmonising continental initiatives as regards to economic integration and developing regional cooperation"
Leadership
Commissioner H.E. Victor HARISON
Director Dr. Rene N'Guettia KOUASSI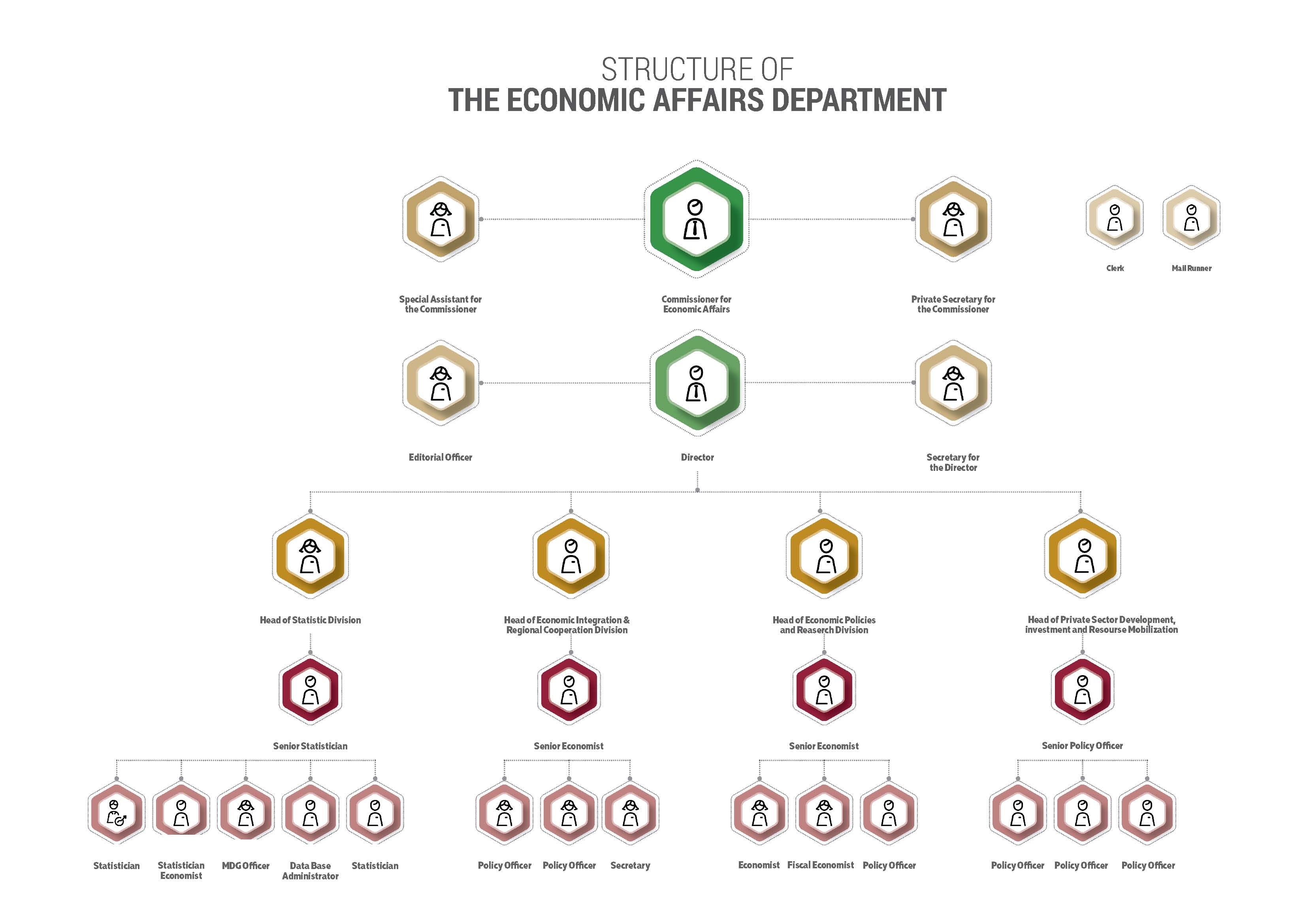 Article 12 of the Commission's statutes defines the portfolio of the Department of Economic Affairs as follows: Economic integration, Monetary Affairs, Private sector development, Investment and Resources mobilization.
This portfolio equally endeavors to promote policies that support investments and mobilize development funding and accelerate the establishment of joint institutions such as the African Central Bank, the African Investment Bank, and the African Monetary Fund.
Objectives
5 Key Messages of the Department
Objectives of the department
Coordinate, harmonize and facilitate all activities aimed at consolidating the integration process at regional and continental levels;
Promote the effective establishment of institutional links between the organs of the African Union and the RECs;
Assist in the establishment of appropriate economic and financial institutions, particularly those provided for by the constitutive Act of the Africa Union;
Facilitate the adoption of joint macroeconomic and sectoral policies adapted to the needs of the Continent;
Promote international economic Cooperation particularly with economic groupings from other regions of the world;
Develop strategies aimed at resolving the debt crisis in Africa;
Assist Members States in finalizing appropriate poverty-eradication policies;
Mobilize resources with the view to funding economic development projects
Main Functions
Develop policies and strategies to accelerate economic integration;
Ensure coordination of activities relating to development of the economic integration process;
Assist in promoting the private sector at national regional and continental levels;
Promote domestic savings in Africa as well as international financial contributions;
Develop monetary and fiscal policies and strategies and propose measures to resolve the debt problem;
Ensure coordination of development frameworks of African economies at national and regional levels
Promote and facilitate economic policies that have an impact on the different stages of development between the RECs with the aim of realizing the Common African Market;
Strengthen the ECOSOC for active participation of the civil society;
Undertake actions to mobilize direct domestic and foreign investment for the development of all economic sectors;
Initiate policies and strategies in order to accelerate the implementation of the Abuja Treaty instituting the African Economic Community (AEC) and facilitate the adoption of viable economic development Programmes for the Continent;
Assist member states in international negotiations, particularly those that take place within the framework of the Cotonou Accords;
Ensure follow-up of initiatives to which Africa is committed namely, TICAD, the China-Africa Forum and the Africa-Europe Summit;
Coordinate the joint AUC/ECA/AfDB Secretariat.