African Union Commission/ AfroChampions/Trade and Development Bank/Africa Development Bank Special event Launch of the Pan-African Fashion Initiative
African Union Commission/ AfroChampions/Trade and Development Bank/Africa Development Bank Special event Launch of the Pan-African Fashion Initiative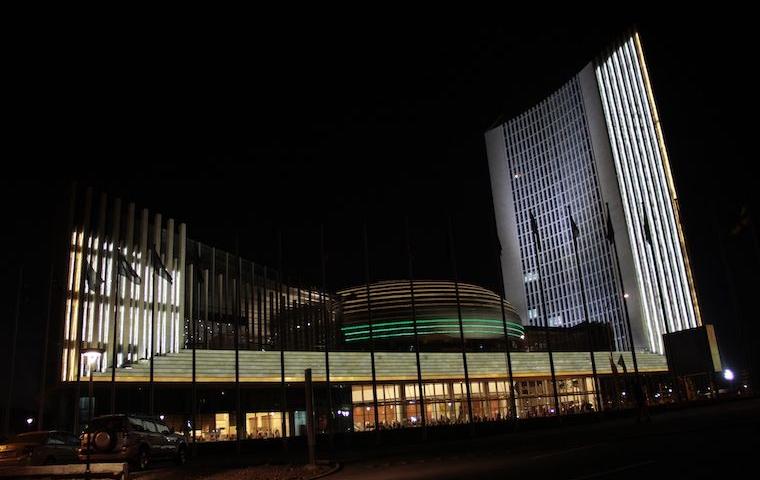 Media Advisory/ 31st AU Summit
African Union Commission/ AfroChampions/Trade and Development Bank/Africa Development Bank
Special event Launch of the Pan-African Fashion Initiative
INVITATION TO REPRESENTATIVES OF THE MEDIA
When: Saturday, February 9th, 2019
Time: 12:00-3.30 p.m.
Where: Hyatt Meskel Square, Addis Ababa
What: Special presentation, panel session and fashion parade
Who: Organized by the Department of Trade and Industry (DTI), the
AfroChampions Initiative, the Trade and Development Bank and the African Development Bank
Key note speakers to include:
• H.E. Ms Sahle-Work Zewde, President of the Federal Democratic Republic of Ethiopia
• H.E.M. Albert Muchanga, Commissioner for Trade and Industry, African Union
• H.E.M Olusegun Obasanjo, Former President of the Federal Republic of Nigeria, Patron of the AfroChampions Initiative
• H.E.Ms. Rkia Derham, Secretary of State to the Minister of Industry, Investment, Trade and Digital Economy of the Kingdom of Morocco and Chairperson of AU Specialised Committee on Trade Industry and Minerals
• Mr Edem Adzogenu, Co-chair, AfroChampions Initiative's Executive Committee
• Dr. Arancha Sanchez, Executive Director of the International Trade Centre
• Mrs Treasure Thembisile Maphanga, Director for Trade and Industry, African Union
• Dr. Frannie Leautier, Chief Operating Officer, Trade and Development Bank Group
• Mrs Carole Wainaina, Chief Operating Officer, Africa50Fund
• Official representative from the African Development Bank
• Mr Jas Bedi, CEO of Bedi Investments, President of International Textile Manufacturers Federation (ITMF) and Chairman of the African Cotton & Textile Industries Federation (ACTIF)
• Mr Samuel Mensah, Founder of Kisua
• Mrs. Roberta Annan, Co-founder and Managing Partner of Impact Fund For African Creatives
• Mrs Anna Getaneh, Founder and Creative Director, African Mosaique
• Ms Adama Ndiaye, Organiser of the Dakar Fashion Week and Founder of the African Fashion Federation
• Ms Aya Chebbi, Youth Envoy, Africa Union
Objective:
• Presenting the research conducted by the AfroChampions Initiative on the African Fashion Industry looking at the current status and opportunities ahead;
• Discussing the recommendations to transform the African Fashion Industry into a growth-driver for the entire continent through productive value;
• Debating the different viewpoints from the African Union's Commission and public-decision-makers of the Trade and Industry, Textile Value Chain, the African fashion's marketers and the African Fashion event industry;
• Calling to action to promote, defend and expand the African Fashion Industry within the panel members; the African Fashion Federation will be presented as an example of such collective effort. African 1st ladies will support and attend for a unique photo opportunity.
• Showcasing the creativity of the African Fashion Industry in a Fashion Parade to mark the event.
Media representatives are invited to cover the launch of the Pan-African Fashion Initiative
Journalists wishing to interview the Commissioner for Trade and Industry should submit their requests to Mr. Molalet Tsedeke, Media Coordinator, via E-mail: MolaletT@africa-union.org
Journalists wishing to interview Representatives of the AfroChampions Initiative and Representatives from the private sector and creative industries should submit their requests to Mrs. Anne-Elvire Esmel, Program and Communications Lead, AfroChampions Initiative Via email: ae@afrochampions.com
For further information contact
Directorate of Information and Communication | African Union Commission I E-mail: dic@africa-union.org I Web Site: www.au.int I Addis Ababa | Ethiopia
Follow us
Face book: https://www.facebook.com/AfricanUnionCommission
Twitter: https://twitter.com/_AfricanUnion
YouTube: https://www.youtube.com/AUCommission
Learn more at:
http://www.au.int
Documents
References