Swearing in of the Secretary General of the African Continental Free Trade Area (AfCFTA) Secretariat
Swearing in of the Secretary General of the African Continental Free Trade Area (AfCFTA) Secretariat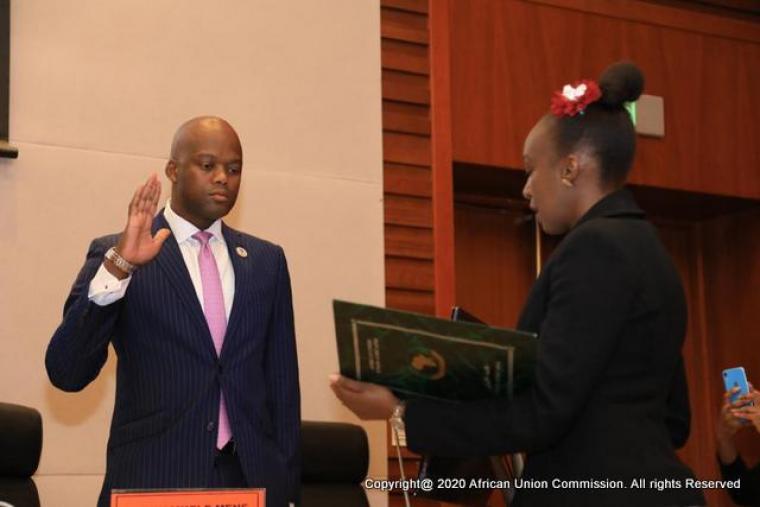 MEDIA ADVISORY
Swearing in of the Secretary General of the African Continental Free Trade Area (AfCFTA) Secretariat
INVITATION TO REPRESENTATIVES OF THE MEDIA
When: Thursday 19 March 2020 – 11:30 AM
Where: African Union Headquarters – Nelson Mandela Hall
Who: Department of Trade and Industry
Objective: The Swearing in of the Secretary General of the African Continental Free Trade Area (AfCFTA) Secretariat to be based in Accra, Ghana where the AfCFTA will be headquartered, is a very important event, which represents an important milestone in the history of the African Union Commission. One of the mandate of the Secretary General is to ensure that implementation instruments required are in place by 1 July for the start of the AfCFTA's trading.
Participants: H.E. Mr. Wamkele Mene, the Secretary General of the AfCFTA and Amb. Albert Muchanga, Commissioner for Trade and Industry, African Union Commission.
Background: During the 33rd Ordinary Session of their Assembly, AU Heads of State and Government decided among others that "the swearing in and installation of the incoming AfCFTA Secretary General be held in Accra, Ghana on 31st March, 2020" and directed "the African Union Commission to prepare for the installation ceremony in close liaison with the Government of the Republic of Ghana as host." The Secretary General will provide leadership and technical support to AfCFTA Secretariat and overall management of the day-to-day functioning of the Secretariat to ensure it achieves its desired mandate. In particular, he will be responsible for the management of the AfCFTA Secretariat, implementation of the AfCFTA Agreement and strategic collaboration; diplomatic, representation and stakeholders' engagement; information management and dissemination and resources mobilization for the implementation of the AfCFTA.
Journalists are invited to cover the High Level Press Conference on Thursday 19 March 2020 at 11:30am at the AU Commission.
Media Contacts:
Mr. Patient Atcho, Department of Trade and Industry of the AUC, Tel: +251 929335250, Email: atchop@africa-union.org
Mr. Molalet Tsedeke, Directorate of Information and Communication, African Union Commission, via E-mail: Molalett@africa-union.org; Tel: +251-911630631.
For further information:
Directorate of Information and Communication | African Union Commission I E-mail: DIC@african-union.org I Website: www.au.int I Addis Ababa | Ethiopia
Face book: https://www.facebook.com/AfricanUnionCommission
Twitter: https://twitter.com/_AfricanUnion or http://www.twitter.com/AUTradeIndustry
YouTube: https://www.youtube.com/AUCommission