Communiqué on the Chairperson's working visit to Botswana
Communiqué on the Chairperson's working visit to Botswana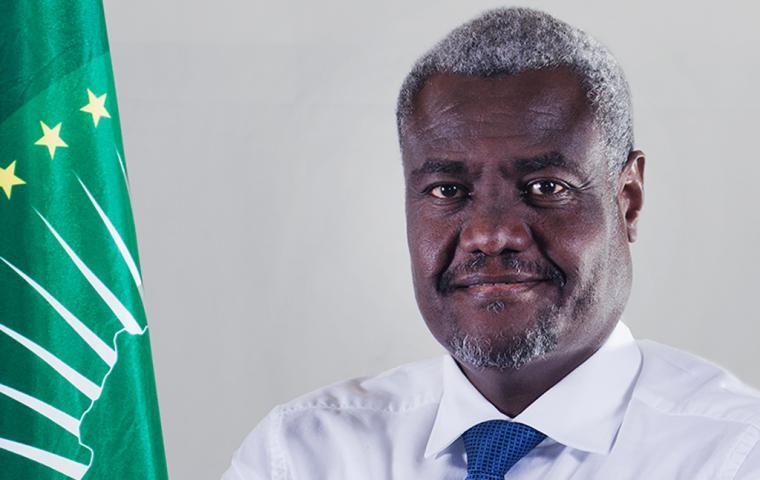 23 November 2019, Addis Ababa: The Chairperson of the African Union Commission Moussa Faki Mahamat concluded a two-day working visit to Botswana today.
During this visit, the Chairperson held discussions with President Mokgweetsi Masisi's and his new Cabinet at a Cabinet Retreat outside the capital Gaborone, following recent general elections in the country.
The Chairperson congratulated President Mokgweetsi Masisi on his election victory and commended Botswana's continued example in transparent governance and respect for the rule of law. He further commended President's Masisi's hands-on leadership with his new Cabinet lineup, noting that the African Union looked forward to benefitting from his leadership.
The Chairperson also briefed President Masisi and his Cabinet on progress on the AU institutional and financial Reforms, the recently adopted African Continental Free Trade Area Agreement (AfCFTA), the flagship Silencing the Guns by 2020. Two leaders also discussed issues regarding regional coordination between the AUC and the Regional Economic Communities (RECS), regional issues of peace and security, including the situations in Zimbabwe and Malawi, and continental partnerships.
Recalling Botswana's historical leadership in mediation processes for Democratic Republic of Congo and South Sudan led by late president Quett Ketumile Masire and former president Festus Mogae, the Chairperson looked forward to President Masisi and his leadership to maintain the momentum to Silence the Guns by 2020
For his part, President Masisi thanked the Chairperson for his visit to Botswana, the first of a sitting AUC Chair to the country. He commended the Chairperson for his exemplary leadership at the helm at the Commission. He then briefed the Chairperson on Botswana's development and political priorities following the recently held election and the formation of his new government.
He reiterated Botswana's renewed commitment to fully participate in support of the continental agenda, and offered to contribute Botswana's expertise in priority areas including mediation, financial and administrative oversight, law enforcement and governance.
During the visit, Chairperson also held a working session with the Executive Secretary of the Southern African Development Community (SADC), Dr Stergomata Tax at the SADC Headquarters in Gaborone. The two officials discussed the working relationship between the regional economic communities and the Commission and the draft policy instruments currently under consideration as part of the institutional reforms of the AU.
Images