4th High-Level Dialogue on Gender Equality and Education in Africa.
4th High-Level Dialogue on Gender Equality and Education in Africa.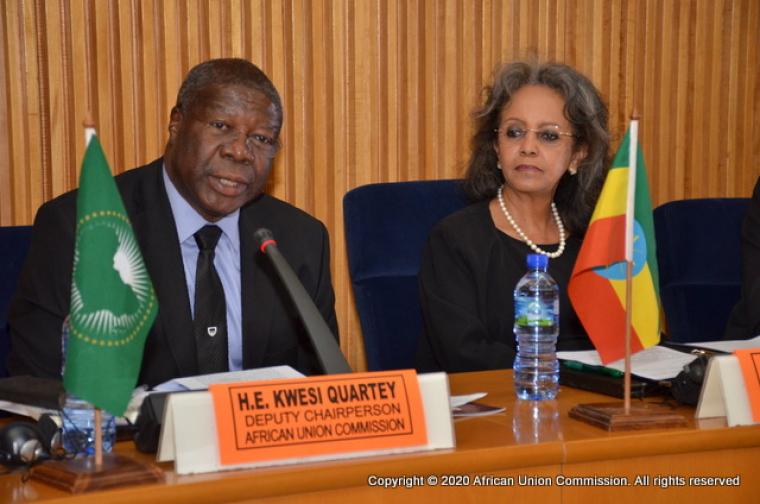 MEDIA ADVISORY
What: 4th High-Level Dialogue on Gender Equality and Education in Africa.
When: 05th February 2020,
Time: 09:00 – 12:00hr EAT
Where: African Union - Headquarters,
Who: Keynote address - H.E. Mrs Sahle-Work- Zewde, President of Ethiopia
Guest speakers
H.E. Moussa Faki Mahamat, AUC Chairperson
H.E. Prof. Sarah Anyang Agbor, AU Commissioner, Human Resource Science and Technology
H.E. Mabuza Lady, Minister of Education and Training, Eswatini
H.E Dr Ginette Amara Ali Mazieki, Minister of Scientific Research and Technological Innovation, CAR
H.E. Deeqa Yasin Hajji Yusuf, Minister of Women Development & Human Rights Minister of Education, Somalia
H.E Morten Aasland. Ambassador of Norway to the Africa Union
H.E. Mr. Antoine Chevrier, Ambassador of Canada to the AU
Mr Xue Man, Vice-President of Huawei Group
The High-Level Dialogue is organised by the African Union International Centre for Girls and Women's Education in Africa (AU/CIEFFA), an A.U. specialised agency mandated to promote girls' and Women's' education in Africa, the Permanent Mission of Norway to the African Union and Save the Children.
Background
Conflict, persecution and violence have uprooted at least 3.2 million people in the first half of the year 2016, and low- and middle-income countries have played the paramount role in sheltering the world's displaced (UNHCR, 2016). Education is a catalyst for economic growth and lasting peace, the right to access services for all segments of citizens should be recognised, respected and implemented. Girls and women are among the most vulnerable populations in armed conflict and other humanitarian situations in Africa. An estimated 12.6 million children are out of school due to conflict. According to the 2015 UNESCO Global Monitoring Report, about 55% of children dropping out of school are girls. It is therefore crucial that African leaders reiterate their commitment to ensuring the protection of girls' right to education in situations of conflicts/emergencies.
Objectives: The 4th High-Level Dialogue will aim to address the following goals in line with the 2020 African Union theme of theme of the year "Silencing the Guns: Creating Conducive conditions for Africa's Development".
Strengthen commitments by taking specific measures to protect girls and boys in education systems in conflict and post-conflict situations;
Advocate for all member states to implement the safe school Declaration to protect and secure teaching and learning environments to ease access for children and especially girls in armed conflict and post-conflict zones;
Create a platform for sharing and learning on existing reporting mechanisms among stakeholders for protecting education for girls and women in Africa.
Expected outcomes:
The increased political will to enhanced safe teaching and learning environments for girls and young women from a wide range of stakeholders.
Media Contact: Mr Jerry Lemogo | African Union International Centre for Girls' and Women's Education in Africa | Email: Lemogoj@africa-union.org
For further information
Ms Janet Faith Adhiambo Ochieng| Communications Officer-Agenda 2063 | African Union Commission | Email: OchiengJ@africa-union.org|
Directorate of Information and Communication | African Union Commission I Email: DIC@african-union.org I Website: www.au.int I Addis Ababa | Ethiopia
Follow the International Centre for Girls' and Women's Education in Africa on:
Facebook: : https://facebook.com/AUCIEFFA/
Twitter: https://twitter.com/au_cieffa
YouTube: https://www.youtube.com
Learn more at https://cieffa.org/