23rd AU Summit
Activities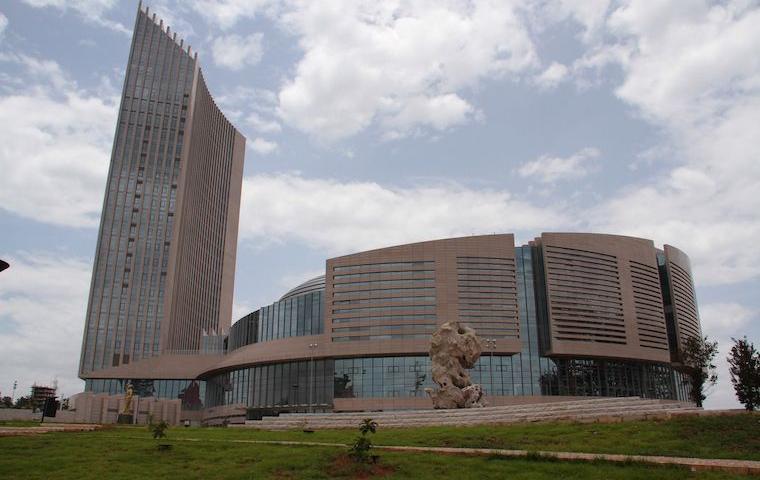 AU
June 26, 2014
Malabo, Equatorial Guinea, 26 June 2014: African leaders attending the 23rd Assembly of AU Heads of State and Government in Malabo, Equatorial Guinea have been unanimous on the strategies needed to step up agricultural transformation to promote the continent's development.
Championing the call was African Union Commission Chairperson, H.E. Dr. Nkosazana Dlamini Zuma who spelt out strategic directions including increased public-private investment and partnership; embarking on irrigation projects, increased access to land and agricultural inputs, and applied science and technology to modernize farming as critical orientations to transform agriculture.
Remaining focused on the AU 2014 annual theme of Agriculture and Food Security, Dr. Dlamini Zuma reiterated the call for agriculture to be made attractive to the continent's youth, especially through specialized training in agriculture and agro-processing in what she described as the "skills revolution".
To enable agricultural transformation to flourish, the environment must be conducive: "We need conditions of peace and stability, and for our people not to be under threat from armed gangs, terrorists and human and arms traffickers and from poachers," the Chairperson said. She called on stakeholders to work toward peace and stability to "create conditions for our people to return home without fear, to plow their fields and to rebuild their lives."
Addressing the AU Assembly of Heads of State and Government, H.E Mohamed Ould Abdel Aziz, Chairperson of the African Union, and President of the Islamic Republic of Mauritania said, "as we commemorate the Comprehensive Africa Agriculture Development Programme (CAADP)'s 10th Year Anniversary, we appreciate comprehensive dialogue which paves the way to developmental efforts and contributes to the eradication of hunger by 2015.''
He noted that while Africa had achieved numerous positive results in terms of economic growth, there was still need to fast-track economic growth, industrial development and investment and tackle the challenges impeding the acceleration of CAADP implementation.
President Aziz commended efforts such as the Africa 50 Fund and the Africa Agenda 2063, working towards the betterment of the continent. In addition, President Aziz, called for more concerted efforts regarding the operations of the "African Mechanism for Peace and Security" noting that terrorism and extremism are threats to African economies.
Also speaking at the opening ceremony, H.E Teodoro Obiang Nguema Mbasogo, President of the Republic of Equatorial Guinea, reiterated the call for an absolute transformation of agriculture, a sector which, accounts for one third of Africa's GDP and employs about 60 percent of the labour force.
President Mbasogo further called for the intensification of investments into priority sectors that would translate into an improved agricultural structure, that would include among others, advanced research and industrialization. He called for the strengthening of the Peace and Security Council and condemned the recent acts of terrorism and conflicts that have rocked some countries.
EAT/JEE/CJ/WZM
For more information about the AU Summit please visit the 23rd AU Summit web link: http://summits.au.int/en/23rdsummit
Journalists wishing to interview the leadership of the AU Commission during the Summit should submit their requests to Mrs Esther Azaa Tankou E-mail: YambouE@africa-union.org / esthertankou@yahoo.com
For further information contact
Directorate of Information and Communication | African Union Commission I E-mail: dinfo@african-union.org I Web Site: www.au.int I Addis Ababa | Ethiopia
Follow the AU Commission:
Face book: https://www.facebook.com/AfricanUnionCommission
Twitter: https://twitter.com/_AfricanUnion
YouTube: https://www.youtube.com/AUCommission
Learn more at: http://www.au.int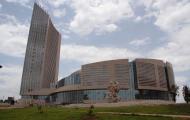 AU
June 19, 2014
Malabo (Guinée équatoriale) – 19 juin 2014 : La Présidente de la Commission de l'Union africaine (UA), S.E. Dr Nkosazana Dlamini Zuma, arrive à Malabo (Guinée équatoriale) le jeudi 19 juin, avant la tenue de la vingt-troisième session ordinaire du Sommet de l'Union africaine, prévue du 20 au 27 juin 2014.
Accueilli par le Président de la Guinée équatoriale, S.E. M. Theodoro Obiang Nguema Mbasogo, le Sommet a pour thème : «Agriculture et sécurité alimentaire», identifié comme thème majeur pour l'année 2014.
Il est prévu que S.E. Dr Nkosazana Dlamini Zuma prenne la parole au cours de la séance d'ouverture du Comité des représentants permanents le vendredi 20 juin, aux côtés de S.E.M. Hamadi Meimou, Ambassadeur de la Mauritanie en Éthiopie et Représentant permanent auprès de l'Union africaine.
Par la suite, la Présidente de la Commission de l'Union africaine s'exprimera à l'occasion des séances d'ouverture du Conseil exécutif et de la Conférence de l'Union, les 23 et 26 juin respectivement.

Conformément à la tradition, la Conférence souhaitera la bienvenue aux trois Présidents nouvellement élus, notamment S.E. M. Peter Mutharika, du Malawi, S.E.M. José Mário Vaz, de la Guinée Bissau, et S.E. M. Abdel-Fattah el-Sisi, d'Égypte, et ces derniers s'adresseront à l'assistance lors de la séance d'ouverture de la Conférence le 26 juin 2014. Les invités d'honneur au Sommet sont le Secrétaire général des Nations Unies, S.E. M. Ban Ki-moon, et le Premier ministre d'Espagne, S.E. M. Mariano Rajoy Brey, avec d'autres invités.
Les représentants des États membres de l'UA, les organes de l'UA, les observateurs, les partenaires et les médias sont arrivés à Malabo, précédant les chefs d'État et de Gouvernement africains et les chefs de délégations.
Conformément au thème de l'année, un Forum africain de l'agroalimentaire, événement en marge du Sommet, est prévu le dimanche 22 juin. Il s'appuiera sur une série de consultations faisant ressortir les enjeux cruciaux de l'agroalimentaire, dans le but de traduire les engagements politiques en actions concrètes et d'accélérer la transformation agricole en tant que moteur de croissance inclusive et d'investissement du secteur privé dans l'agriculture.
Dans le cadre de l'initiative de la Présidente de la Commission de l'UA pour promouvoir l'engagement des femmes dans l'agriculture et l'agroalimentaire, une réunion consultative pré-sommet ayant pour thème «La femme au centre de la croissance de l'Afrique en matière d'agriculture, de sécurité alimentaire et d'agroalimentaire» a débuté jeudi, rassemblant une soixantaine de participantes issues d'organisations et de réseaux féminins du Sénégal, du Mali, de l'Ouganda, de la Sierra Leone, de la Gambie, du Nigeria, du Burkina Faso, du Togo, du Kenya, du Liberia et du Zimbabwe.
L'Envoyée spéciale de l'UA pour les femmes, la paix et la sécurité, Mme Bineta Diop, et M. Leo Heileman, Coordonnateur résident des Nations Unies et Coordonnateur résident du Programme des Nations Unies pour le développement, ont prononcé des allocutions lors de l'ouverture de la manifestation parallèle, qui a été officiellement ouverte par
Madame Antonina Miko Mikue, Conseillère présidentielle de la Guinée équatoriale sur l'égalité entre les hommes et les femmes auprès du Ministère en charge des Affaires sociales et de l'Égalité entre les hommes et les femmes. Les recommandations formulées à l'issue de cette conférence de deux jours seront présentées aux chefs d'État et de Gouvernement.
JEE/wzm/rv.